The Lampus Beginnings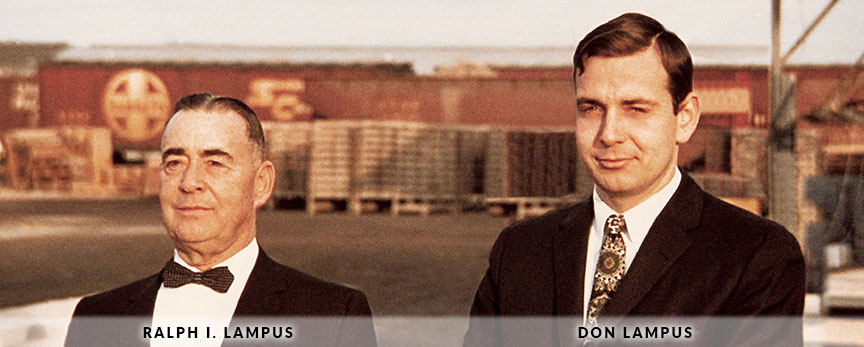 Brothers Ralph and Harry Lampus opened the R.I. Lampus Company in Springdale, PA in 1924, producing and selling cinder block to the growing community around Pittsburgh. But soon the depression cut into business, and forced Harry to leave.

Ralph stayed on to continue the manufacturing and delivery of block on his own.

Despite the depression, Ralph kept the company operational through the late 1930's and as the company entered the 1940's.

New high-capacity machinery enabled R.I. Lampus Company to produce more block at a lower cost per unit, launching a rapid growth phase through its incorporation in 1952.
Difficulties Ahead
Ralph Lampus still had difficulties to face.
Cinders were becoming more difficult to acquire, so he began the transition to natural aggregates such as:
Sand
Gravel
Limestone
Granite
Expanded shale
Ralph's son Donald, after working in various tasks at the plant since the age of nine, joined the company full time in 1962.

With a degree in civil engineering, Donald helped to expand the vision of the R.I. Lampus Company.

By the time Donald joined in 1962, R.I. Lampus Company was the largest producer of concrete masonry units in the Tri-State area, and soon would expand its manufacturing expertise into other untapped markets, like hardscape products (Interlocking Paving Stones and Segmental Retaining Walls) and one of North America's largest Alloy Briquette plants.
Expansion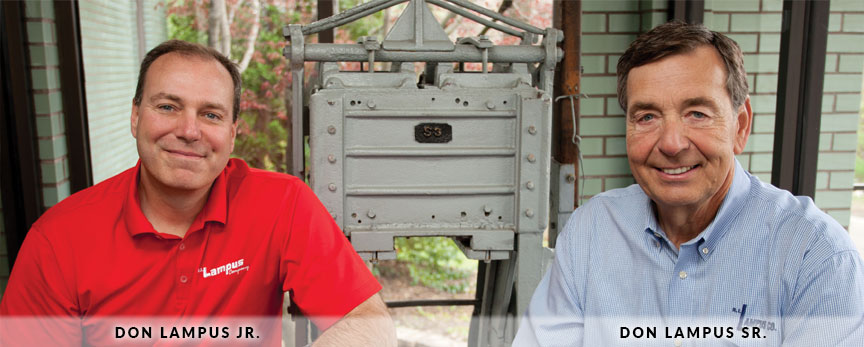 Donald's son Don Jr. joined the company full time in 2007 after a career in Top Fuel Drag Racing and running the Doren Inc. hardscape plant.

With his degree in Industrial Engineering Don has helped take R.I. Lampus Company to the next level.

R.I. Lampus Company has expanded its concrete block operation with:
A second block plant in Aliquippa
Opened a wet cast concrete plant to expand the line of concrete products the company can offer
Acquired agreements with many clay brick companies to expand the company's reach in the building industry
Opened the first R.I. Lampus Company retail hardscape store in Erie, PA
A third block plant in Cambridge Springs, PA to service the Erie and surrounding markets
The Future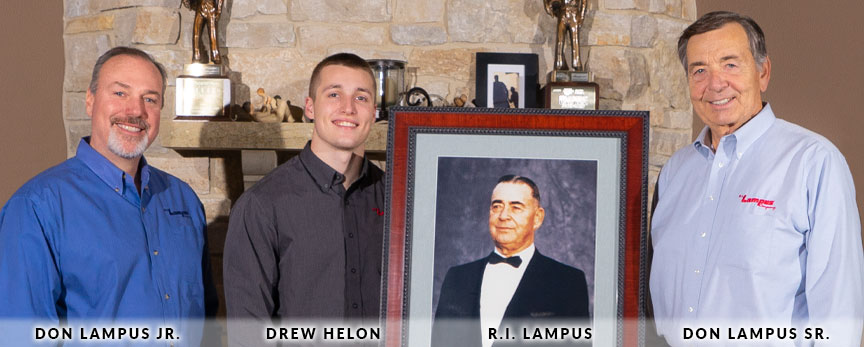 We now begin to look toward the future with the addition of Don's nephew Drew to the company.

After graduating with a degree in Economics, Drew joined the company full time in 2018 and is well on his way to learning the ins-and-outs of every aspect of the company's operation.

The R.I. Lampus Company is proud that through a combination of determination, high standards, and commitment to continuous improvements, it has made a name for itself by providing the best service and the best products to its customers for over 94 years.