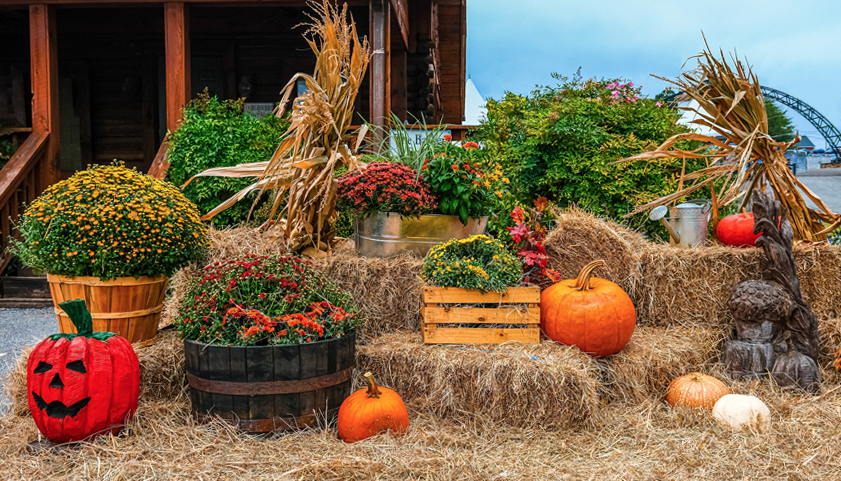 Once it's time for fall, everyone is ready to hang up their swimsuits and break out the hooded sweatshirts. Fresh corn, colorful foliage, and pumpkin-flavored treats are just a few of the fun things that make fall a welcome change after summertime. Read through this guide to discover lots of ways to take part in all of the exciting, autumnal happenings this season.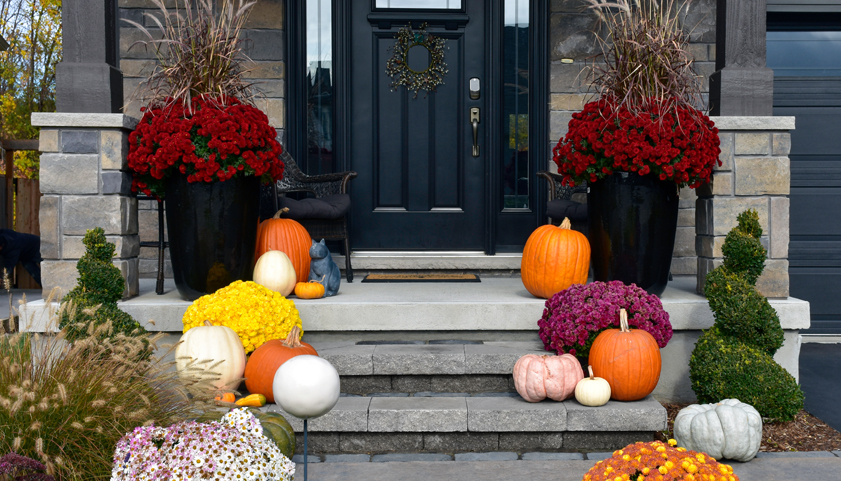 DECORATING YOUR OUTDOOR SPACE FOR FALL:
Whether you're a fan of the seasonal approach or a hard-core Halloween supporter, there are plenty of items to add to your outdoor spaces to help them look like fall. Adding a wreath on your front door is a great way to add color and texture to your front porch. A simple style with orange, red & yellow leaves is a fall look that is timeless. Mums are a seasonal potted plant that you can buy in autumn to add pops of color to your outdoor areas as well. Put different colored mums on your front porch or on your pillars and sitting walls in your backyard. If you have seat cushions on chairs on the front porch or back patio, consider picking fall tones to make the overall appearance look more festive. Lastly, pumpkins and corn stalks are an organic and seasonal option that you can place around the porch, patio, and lamppost. You can buy pumpkins and corn stalks at local grocery stores. Check out the list below of some local farms that offer lots of fall décor too.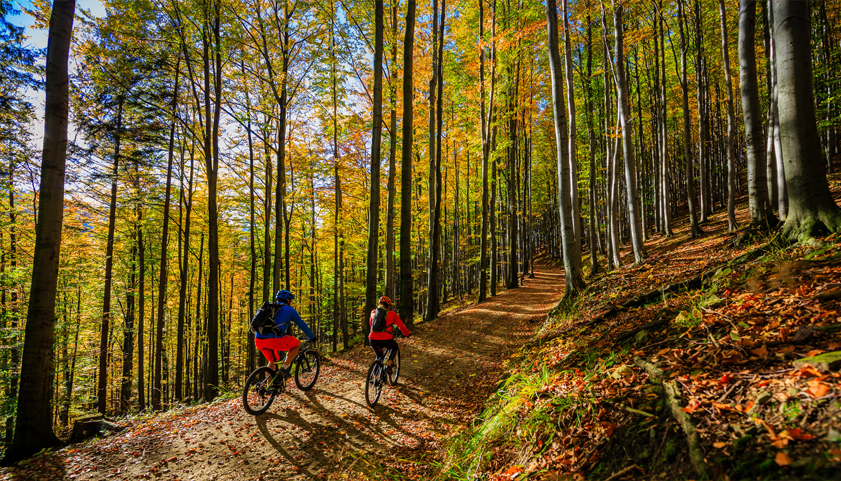 BIKE TRAILS IN THE GREATER PITTSBURGH AREA:
Pittsburgh is known as the city of bridges, but did you know that there are plenty of bike trails in and around the Greater Pittsburgh area too? Fall is the perfect time of year to get outside and enjoy all the trails and bike paths the city has to offer.

Panhandle Trail: The Panhandle Trail starts in Collier Township and spans 29 miles all the way to West Virginia.

Montour Trail: You can hop on this trail in many places including Bethel Park and Robinson Township. Its main line extends 47 miles and also filters into many other trails throughout Pittsburgh.

Three Rivers Heritage Trail: The Three Rivers Heritage Trail is 33 miles long and runs along both sides of the Allegheny, Monongahela, and Ohio Rivers in the city of Pittsburgh. It also stretches outward to surrounding areas.

Visit this link for more trails to try: Pittsburgh Bike Trails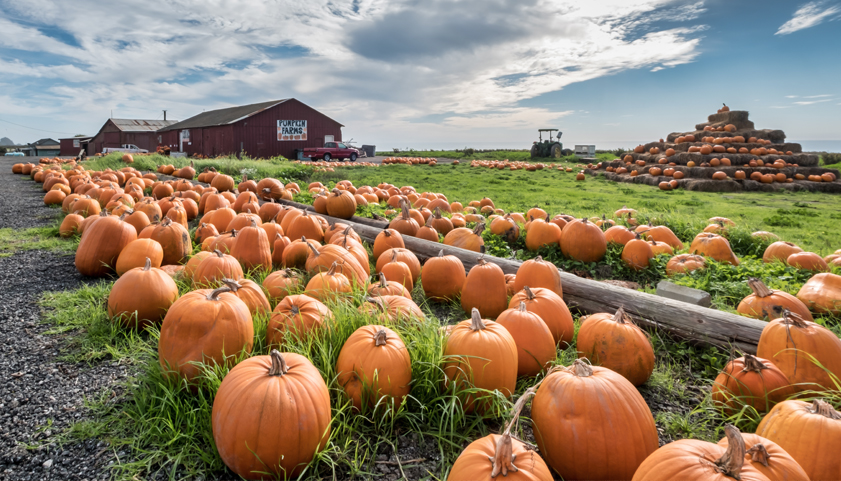 PUMPKIN PATCHES:
Farms and greenhouses are the perfect places to grab your seasonal décor for outdoor spaces like pumpkins, cornstalks, and other outdoor decorations. Each of the locations listed below have stores on-site that sell fall decorations, but they also offer so much more. Discover what each family farm has and visit the links for even more information on fun, fall activities to get into this time of year.

Triple B: Triple B Farms has been open since 1985 and is located only 15 miles from the City of Pittsburgh. It is full of year-round activities making it a top-notch spot to check out throughout the fall season.

Trax: Trax Farms is a six generation, owned and operated location that offers fresh produce, seasonal decorations, and home décor, plus activities throughout the year. The fall season is notably one of their most popular times of the year to visit, creating a fun spot for everyone in the family.

Soergel's: Sorgel Orchards, also started as a family venture back in the 1850s and has continued to grow over the years. It began as a subtle apple orchard and expanded into a fully equipped space that has lots of activities to take part in throughout the year. Not only does Soergels have a bakery and deli department on-site, but they have also invested in wine and hard cider development in the last few years. Many avenues of fun for all at Soergels.

Janoski's: Janoski's Farm & Greenhouse has been family-owned and operated since 1958. For fall, visit Janoski's to pick pumpkins in one of their patches, weave through their corn maze, or buy some delicious baked goods. Everyone in your group will find something to do at Janoski's.

For a more comprehensive list of pumpkin patches – check out this link: Pumpkin Patches In Pittsburgh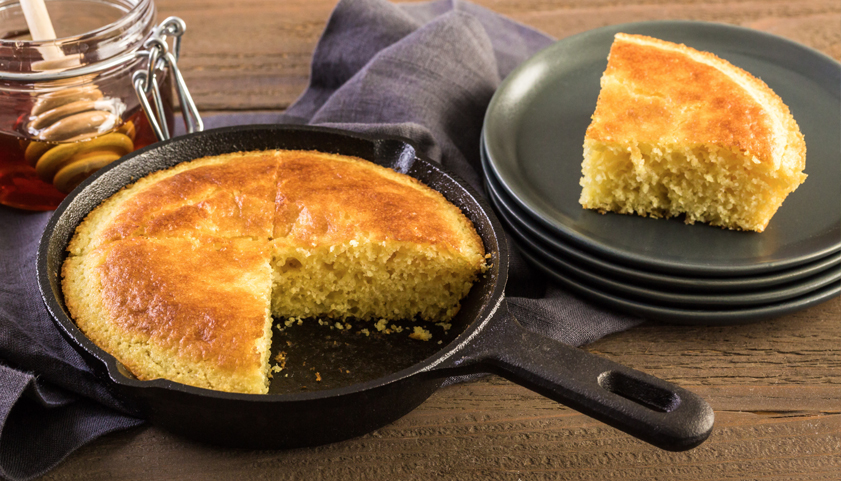 CORN RECIPES:
The autumn season not only triggers thoughts of Halloween and pumpkin patches, but also indicates harvest time for a family favorite – corn! Below are four easy-to-make recipes that incorporate the husked hero of fall into your cuisine.
Corn Fritters: Corn fritters are a savory treat that can be made as a starter to a big family meal or used in place of bread or rolls on the side with your dinnertime selections this fall. Using fresh corn kernels in your fritters amps up an already reliable & tasty fall dish. Corn Fritter Recipe

Corn Chowder: Corn Chowder is the perfect dish for a crisp fall evening accompanied by a grilled cheese or BLT sandwich. You can also add meat to the rich chowder to make it a hearty meal on its own. Visit the link below to see how adding fresh corn to your next pot of chowder can make for a delicious and satisfying option this season. Corn Chowder Recipe

Cornbread: One of the easiest ways to make your cornbread shine bright this season is by adding in some fresh corn into your batter. Fresh, sweet corn is by far the best option, but frozen corn will do the trick too. Serve cornbread on the side of your favorite chili this autumn or even as a quick, sweet & savory treat for the kids. Cornbread Recipe

Corn Soufflé: Corn soufflé is an easy, savory dish that is far easier to make than the name makes it sound. This side dish can also be customized by adding different cheeses or more vegetables like zucchini, for added flavor. Corn Soufflé Recipe

Summer might be over, but the fun is not. The harvest season proves that change can be beautiful, so grab your apple cider, enjoy the colorful scenery, and get ready for a Happy Fall Y'all.