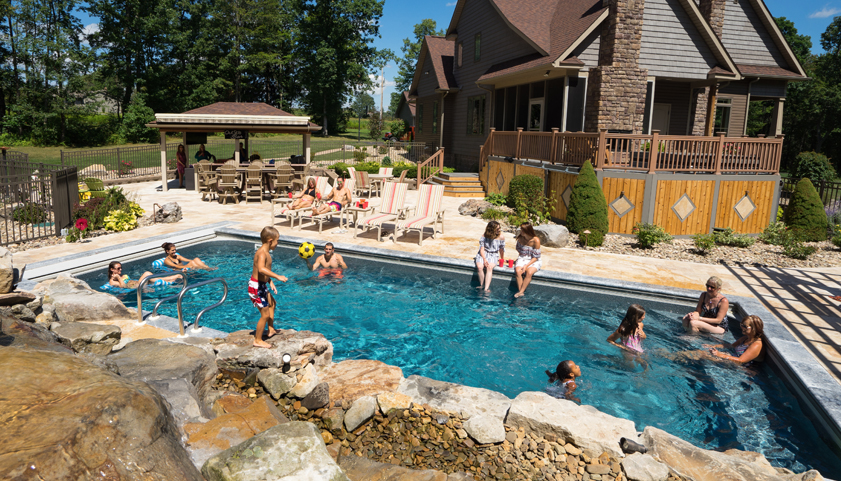 Yesterday was Memorial Day which means one thing – POOLS ARE OPEN! 25% of Americans declare their favorite season is summertime when the warm weather rolls in. Check out this ultimate pool-party guide to make sure you are all set for having fun in the sun!

When you are throwing a pool party you have three types of guests: the sun-bathers, the shade-enthusiasts, and the party people.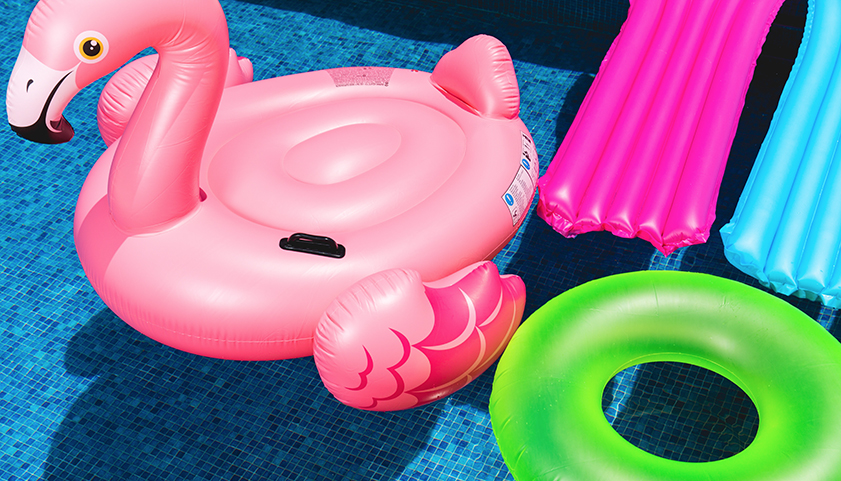 For the party people, here are 4 different pool games that are sure to keep anyone having a great time and entertained.

Marco-Polo: Marco polo is easy to play and can involve lots of people at one time. One person is chosen to be "it" and starts out at one end of the pool. The other players are spread throughout the remainder of the swimming area. The person who is "it" keeps their eyes closed throughout the game, shouting Marco. The other swimmers shout Polo in response and scatter about in the water in hopes of throwing the seeker off the trail. Once the "it" person catches someone, that new person is now "it".

Chicken Fight: The game of Chicken or Chicken fighting is a pool game that involves knocking your opponent off of their partner's shoulders. It can be a ton of fun, as long as you play safely. Some rules of thumb are to play in deep enough water and safely away from any walls, so no one gets hurt. Only 4 people can play at a time, so it is not ideal for bigger groups. It is also crucial that the participants are old enough to swim well and stand in the deeper water. On each team, there is a player (the bigger person out of the pair) that stays standing in the water, while the smaller partner gets up on their partner's shoulders. The goal of the game is to knock the other team's 'shoulder-riding' player into the water. Playful pushing and grabbing are encouraged, but it's important to play fair and safe. Biting, kicking, and punching are all against the rules. This game can be a blast when everyone plays by the rules.

Sharks & Minnows: This pool game has been around for a long time and also has many variations, which make it perfect for parties. You can change it up to accommodate the group you are with. The basics of the game are that one person is the shark, and the rest of the players are the minnows. The goal for the minnows in the game is to swim from one side of the pool to another without getting tagged by the shark. The goal of the shark is to tag as many minnows as possible, while they are en route from one side of the pool to the other. To make it more fun, make the shark "blind", by having them face away from the minnows with their eyes closed. When they hear one of the minnows take off, they can turn around to try and tag them. The last minnow left standing is the winner! Add obstacles like inflatables in the water to make it harder for all the players.

Water Volleyball: Water volleyball is just what you think it would be. It's playing the game of volleyball with a net and ball in the pool, instead of on the ground or on a court. It can be played between two teams, each team consisting of 1 to 4 players, depending on the area of water in which the game is being played. This is the only game on the list that will require buying equipment to be played, so keep that in mind. Most local stores like Walmart & target carry nets that can be put up across the pool and a ball to hit back & forth. If volleyball isn't your sport, you can also invest in a basketball hoop (inflatable or stationary) and a ball for shooting hoops in the pool too.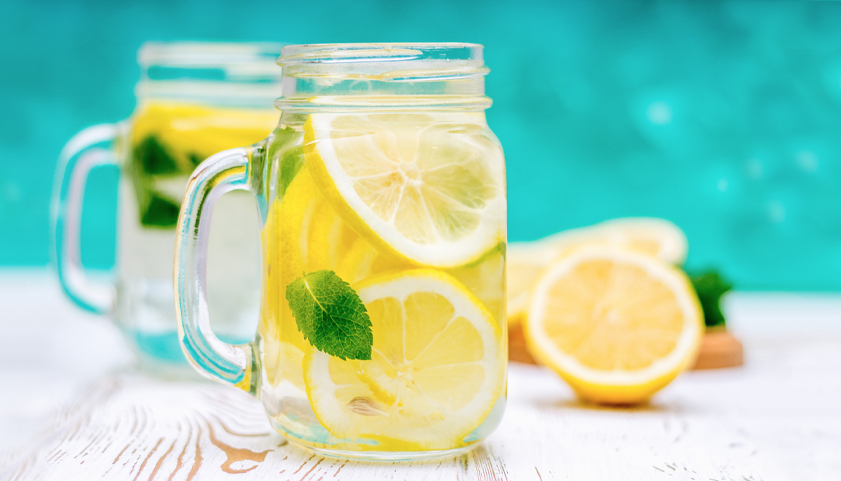 Now that you have the party people covered, let's talk snacks, for all the shade enthusiasts that stop by the pool this summer.

Snacks that are poolside should be simple and able to withstand the heat. If you are putting any snacks out that need to stay cold, make sure you keep them on ice or consider keeping them inside where it's air-conditioning, to cut down the risk of anything spoiling.

Chips & Dip: There are so many variations of this simple poolside appetizer, whether you keep it simple with basic potato chips and French onion dip or get spicy with salsa and tortilla chips. You can't go wrong with some salty and savory treats to munch on this summer. This recipe is a yummy dip to try out this season. https://therecipecritic.com/loaded-creamy-ranch-dip-poolside-dip/

Fresh Fruit: Everyone loves some sweet, fresh fruit on a hot summer day. You can keep it classic with chunks of watermelon, or make a full fruit salad to serve in plastic cups or paper bowls poolside. Visit this website https://www.grocerycouponguide.com/guide-to-buying-fresh-fruits/ to learn the best tips on buying fresh fruit.

Lemonade: Freshly squeezed lemonade is the most refreshing drink when you're out in the sun. Alongside drinking plenty of water to stay hydrated, treat yourself to some sweetness with a lemony drink this summer season. All you need to make some simple lemonade is water, ice, sugar, & lemons. A great alternative to lemonade is sweet tea. Take a peek at this mocktail list for more yummy & refreshing drinks that all can enjoy by the pool. https://www.thedailymeal.com/entertain/9-refreshing-mocktails-beat-heat-pool-party-0/slide-5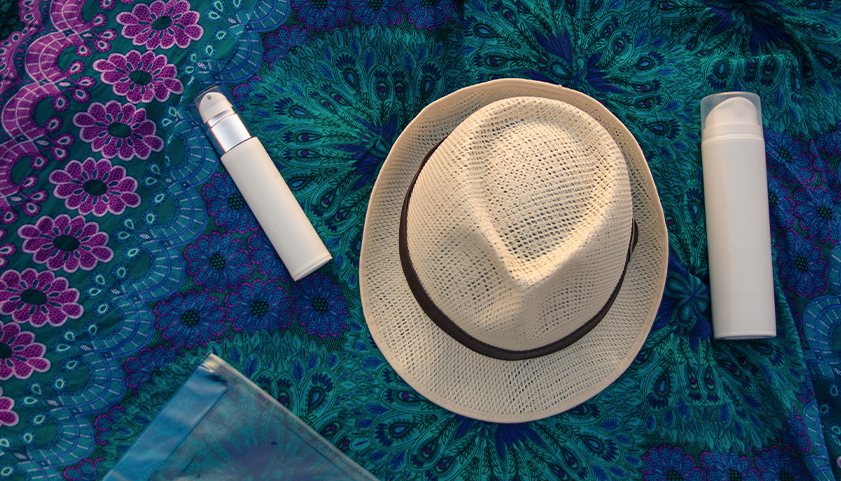 Sun-bathers are all about catching some rays and resting in the chaise lounge chair by the water. When spending time in the sun, it's important to have the right gear to keep your skin safe from the UV rays.

Sunscreen: The #1 top priority for summer is wearing sunscreen. Skin cancer is the most common cancer in the United States, so applying a good layer of the good stuff before heading outside is very important for prevention. When choosing sunscreen you want to make sure you pick what works well for your skin and for the activities you are taking part in. They sell sport-type sunscreen for people who plan on being active in the sun and may be sweating more than normal. They also have mineral-based sunscreen for those that have exceptionally sensitive skin. No matter what type, make sure you apply your lotion all over your body and face at least 30 minutes before you head out into the sun, for maximum protection, and continue to reapply throughout the day.

Hat: Hats are also a great way to protect your skin from the sun's rays. Not only does a wide-brimmed or baseball cap, shade your face, but it also can help keep you cool. People succumb to overheating easier than they realize, so hats are a quick & easy way to cool down in the hot summer heat.

For more trendy and helpful sunbathing gear – https://www.trendhunter.com/slideshow/sunbathing-necessities

Now that all the attendees are covered, pool safety is the last item on the list for a successful pool party.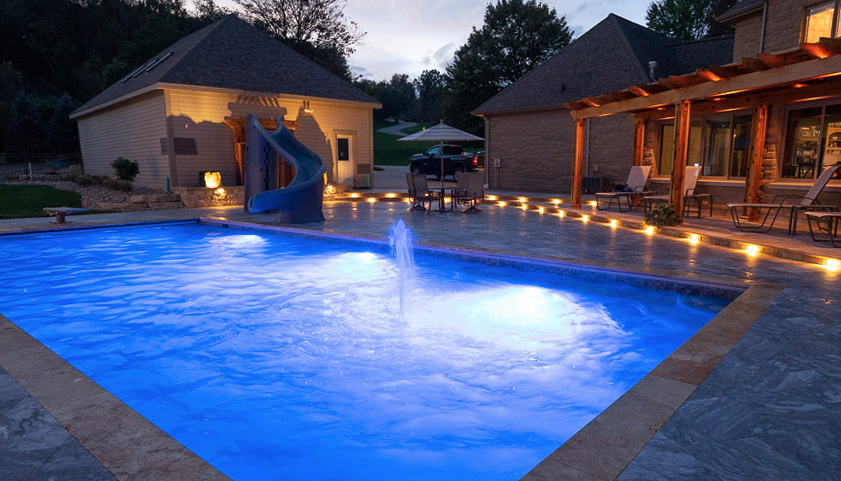 Some quick pool safety tips are:
· Encourage walking, not running around the pool with signs or verbal cues
· Never swim alone
· Drink plenty of fluids when in the heat, for an extended period of time
· Secure your pool with appropriate barriers
· Deflate or lock up flotation toys when not in use
· Have a first aid kit on-hand
· No diving in shallow pools
· Keep riding toys away from the pool at all times

So, grab your gear, and make this summer all about the pool days & the sun rays. A pool party can't solve everything, but it's a good start!